The world's largest cryptocurrency exchange by volume, Binance, has suspended spot trading. Although the move is temporary, it has caused panic among investors. According to the official tweet, Binance is working to resolve the issue as soon as possible. However, the exchange has not given any official word on why spot trading was suspended.
Binance chief, CZ, took to Twitter and ensured people that their funds were "safu," a crypto term for safe. CZ stated that "Initial analysis indicated matching engine encountered a bug on a trailing stop order." CZ further added that the bug was a "weird one." Furthermore, he stated that the exchange is recovering, and would take around 30-120 minutes.
The community's response to Binance's decision to temporarily halt spot trading appears to be mixed. While some individuals joked about the situation or proposed switching to decentralized exchanges, others expressed concern over the technical difficulty. Moreover, there were comments advising people to maintain their composure and reminding them that their cash was "safu."
Worry around centralized exchanges has grown manyfold after the collapse of several cryptocurrency firms. The fall of FTX was one of the biggest failures in crypto, and the incident sparked a mass movement toward self-custody.
Crypto markets react to Binance's spot trading suspension
The exchange's decision is coupled with Bitcoin (BTC) briefly falling below $28k, dropping 1.5% in the last hour. The original cryptocurrency has gained by nearly 70% since the beginning of the year. Fears loom fresh whether it will once again fall below its current support of $26,811. Nonetheless, the original crypto has maintained its price above $28k, at least for the time being.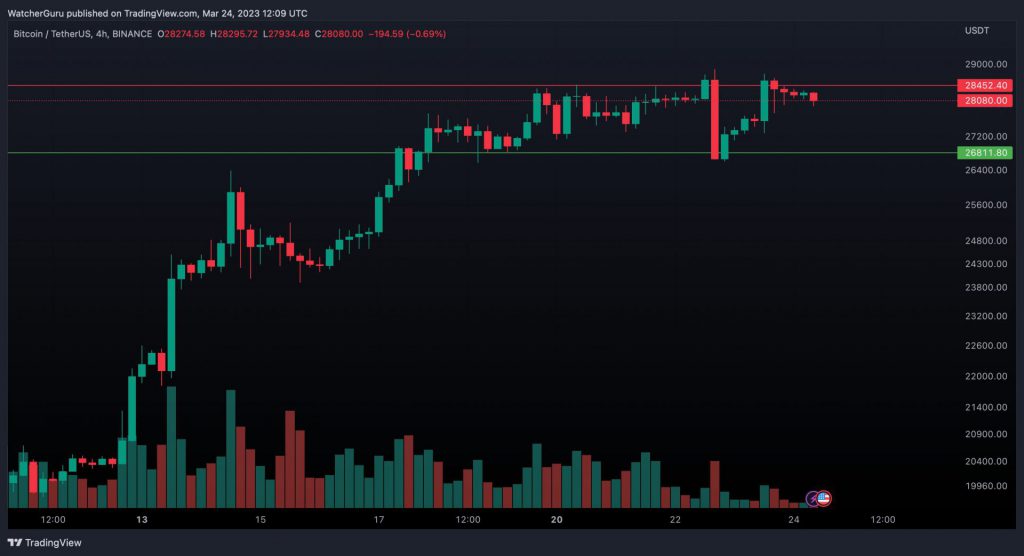 At press time, Bitcoin (BTC) was trading at $28080.00.